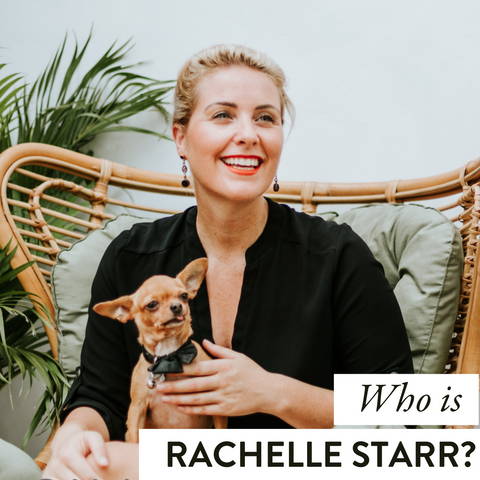 Hi I'm Rachelle and welcome to the realm of Heal Thy Self. A sanctuary that has been meticulously curated over many many years and is the physical manifestation of much of my own healing journey. Here you'll find the best products, programs and people to help move through life when it feels hard. I've been called a "glorifier of spaces" in the past as I like to bring a little bit of magic and 'joosh' things a bit to make everything feel special, and I hope you feel that when you land in this space.
I've definitely had my fair share of ups and downs. I've worked in property and with some of the world's best entrepreneurs. I've then spent the last decade in the wellness industry building things from scratch, developing health products, curating retreats in Bali and creating world class online programs - only to have a lot of it then crumble around me due to things outside my control. When all the gloss is stripped back I'm a single mum who's been through a lot.

The last few years things have been tough. Both my parents died within a year of each other and my husband of 10 years left me. This was a rock bottom for me.
To be honest I didn't have much left in the tank during those times. I was down. I was broken. I was stressed. Knowing what I know about health I knew that I couldn't keep going if I didn't support myself.

I honestly didn't have much left in my tank at that point so it needed to be super simple. I made one decision. I decided to really lean into and use the products I'd created. I took the Glow Duo everyday. I knew doing that ONE thing a day would help to support me and my body as I moved through one of the most difficult times of my life, and look after my daughter. I was fortunate to have been educated enough in health to know that stress ravages the body. Stress creates acidity, affects digestion and hormone imbalance - and I just didn't need any of these things in my life on top of everything else.

Doing this one thing of taking the Glow Duo got me through, and it honestly made me fall in love with the products that I've created all over again. I'm so glad I made that ONE decision. It meant I was nourished with antioxidants, vitamins, minerals, phytonutrients and alkalising my body.

Honestly I know hand on heart that this nourishment helped with my mental state as well. I'm so incredibly grateful for these products and it's a real honor to share them with you.

If you're low on time, high on stress, trying to parent and juggle a million things at once, know that you can make this one decision too and you're doing something good for yourself.

This is my world now, finding the best solutions when it comes to health for busy women. To offer simple solutions that bring joy, vibrancy and ease to your life in all the ways. By sharing my story I hope to have inspired you to have one health habit a day that you know is super charing you when times are tough.